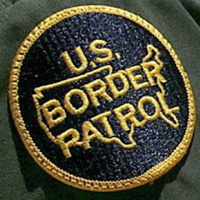 United States Border Patrol agents from the Yuma Sector arrested five men and two women, and seized several bags of methamphetamine and eight backpacks of marijuana Thursday.
Agents working at the checkpoint on I-8 east of Yuma became suspicious of a black Hyundai Sonata after a canine alerted to the vehicle while performing a sniff of the exterior. Agents searched the vehicle and found a black duffle bag in the vehicle's trunk containing vacuum-sealed plastic bags of methamphetamine and a small amount of marijuana. The driver and two passengers, all U.S. citizens, were arrested. The methamphetamine had a combined weight of 1.6 lbs pounds with an estimated value of over $18,000. The driver, passengers, contraband and vehicle were later turned over to the Drug Enforcement Administration.

In a separate incident, agents on patrol in Gila Bend became suspicious of several individuals approaching I-8 with large rectangular backpacks. Agents responded and seized the backpacks found to contain marijuana. They also arrested two Honduran nationals whom had entered the country illegally. The marijuana had a combined weight of 304 lbs worth an estimated $152,000. The two men and marijuana were transported to the Wellton Station for further processing.