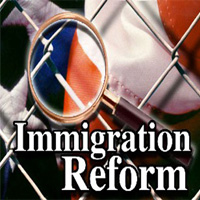 During the current congressional summer recess, people from the group Promise Arizona have planned a series of faith-based community forums. On their agenda was Yuma. On Sunday, August 25th, they offered information to immigrants and families about comprehensive immigration reform. The Executive Director of Promise Arizona Petra Falcon tells us more.

The Pilgrimage for Citizenship movement made its way through Yuma on Sunday afternoon at Immaculate Conception Church.
They are hosting forums across Arizona during the congressional recess asking for immigration reform at the House level.