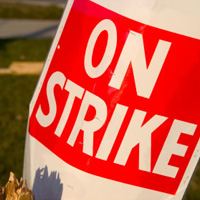 Fast food workers around the nation are leading into Labor Day with another round of one day strikes today. Professor Steven Ashby, who specializes in labor and employment relations, says these strikes have picked up momentum this year, partly because of their new approach. Instead of targeting one company, they target low wage industries – fast food and retail – and they strike for one day. Ashby says another difference is that religious leaders go back to their jobs with them the next day, to make sure there is no retaliation. He says that empowers the workers.

The minimum wage in Arizona is $7.80 an hour, which for a full time worker amounts to just over $16,000 a year before taxes. No strikes are planned in Arizona, but national organizers say all workers are invited to take action.

President Barack Obama has proposed increasing the federal minimum wage to $10.10 an hour by 2015. But analysts say if the minimum wage in 1968 had been adjusted for inflation, it would already be up to $10.56 an hour.