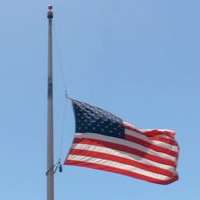 Arizona Governor Jan Brewer says flags on all state buildings around Arizona will be flown at half-staff in honor of the victims of the Navy Yard shooting in Washington, D.C.

Brewer says flags will remain lowered until sunset on Friday. She made the announcement Monday in accordance with a proclamation from President Barack Obama.

A former Navy man opened fire Monday morning inside a building at the heavily secured Washington Navy Yard. Arizona Representative Paul Gosar made the following statement. He said quote, "Today's tragic events remind us how precious life is and the fragile nature of freedom, which is guarded by patriots like those at the Navy Yard. Tonight, our prayers go out to the families of these brave Americans." – unquote. 13 people were killed, including the gunman.