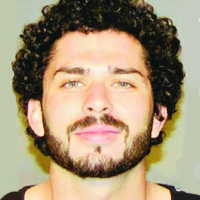 The Yuma man who allegedly threatened to shoot a woman, kill other unspecified people and then kill himself was sentenced to 3 1/2 years in prison Tuesday morning in Yuma County Superior Court.
In doing so, Superior Court Judge Pro Tem Stephen J. Rouff, who presided over the case, also gave Gary Smith credit for 47 days he has already served since his arrest on the misconduct with weapon charge, which he previously plead guilty to in a plea agreement.
But that wasn't the only sentence Rouff handed down. He also sentenced Smith to 2 1/2 years in prison with credit for 111 days previously served for kidnapping per domestic violence and 3 1/2 years with credit for 47 days served on a second misconduct with weapons offense.
Rouff then ordered that all three sentences would be served concurrently – meaning all at the same time and for the longest of the sentences imposed.