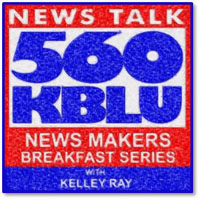 Newsmakers Breakfast was held this morning live from the Yuma Landing on South Fourth Avenue. We had several guests lined up for our show.

The New San Luis Community Development Director Jenny Torres, John Andoh from YCAT explained a new system coming to buses and the Executive Director of the Yuma Metropolitan Planning Organization Charlene Fitzgerald was with us.
Join us for good coffee, great food and great talk with the Newsmakers Breakfast live from the Yuma Landing at every Wednesday on Newstalk 560, KBLU.