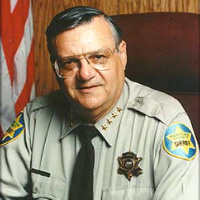 A man accused of mailing a homemade bomb to Sheriff Joe Arpaio in April 2013 was arrested after Postal Inspectors and FBI agents executed a search warrant on his Oklahoma residence last Thursday.
Gregory Lynn Shrader, 55, of Jay, Okla., was charged with willfully making a threat after investigators discovered he tried to send an improvised explosive device through the mail to Arpaio's headquarters in Phoenix from a post office box in Flagstaff, records show.
Postal workers in Flagstaff noticed the suspicious package by its excessive stamp postage and typewritten addressee label, according to a complaint filed Thursday in U.S. District Court in Arizona.
While inspecting the cardboard box, postal inspection agents observed a silver grain-like substance spilling from one of the seams. After extensive screening, it was determined to be an explosive smokeless powder, according to court documents.