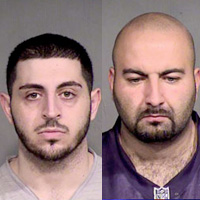 The Arizona Attorney General's Office says three men have been arrested on fraud charges involving food stamps. Phoenix police raided a west Phoenix convenience store Wednesday and later searched the suspects' home in Peoria.

Authorities say they seized tens of thousands of dollars in cash, vehicles, ledgers, bank records and food-stamp cards.

The three men who worked at the store were charged with illegally conducting an enterprise, fraudulent schemes, money laundering, unlawful use of food stamps and computer tampering.
The men all have the same last name and range in age from 33 to 51, but it is unclear if they are related.