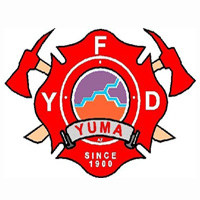 On Christmas Eve, Yuma Fire Department personnel responded to 48 emergency calls for service. Two of those were residential fires. At approximately 4:20pm YFD responded to a reported fire in the Double D Mobile Home Park at 355 West 18th Street. Arriving personnel found smoke coming from an apartment at that location. Firefighters quickly extinguished an oven fire that had spread to a refrigerator and other items stored near the oven. The apartment's 79 year old female resident saw flames coming from the oven and was able to safely leave the home without injury.
The fire was determined to have originated in the oven where various kitchen items had been stored. The apartment was not able to be reoccupied without repairs. An hour later YFD personnel responded to a reported fire at the Bow and Arrow Motel at 1215 South Fourth Avenue. Arriving YFD personnel found heavy smoke and flames coming from the manager's office and connected apartment. The fire was contained to the manager's unit and extinguished.
Investigators determined the fire originated in a bedroom and was caused by a child playing with matches. The bedroom, the office, and a laundry room were damaged by fire, with smoke damage throughout the unit. No other dwelling units at the motel were affected. Two people were evaluated for smoke inhalation. One, an eleven-year-old boy, was transported to Yuma Regional Medical Center and later flown to Phoenix for additional treatment.