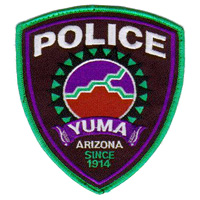 The Yuma Police Department is now accepting applications for the upcoming Citizens Police Academy. The academy is designed to educate the citizens of Yuma about the daily operations of the Yuma Police Department. The academy is eight weeks long and will give participants an opportunity to meet several officers who will be instructing various topics relating to police work. Participants will also get a tour of the department and complete a ride-a-long. The academy will start on April 9th with a graduation ceremony on May 28th. Classes are held every Wednesday from 6pm-to-9pm at the Yuma Police Department at 1500 South First Avenue. There is no fee for attending the academy but you will be required to attend at least five sessions and participate in all "hands on" exercises for successful completion of the course. Preference will be given to residents of the City of Yuma.
Applicants must be 21 years of age or older. Applications for the academy can be picked up at the Yuma Police Department records window. The deadline for application submission is March 27th or until 25 participants fill the class. If you have any questions about the program please feel free to contact
Master Police Officer Cruz Vidal at 373-4760 or e-mail atVidalC@Yumaaz.gov.