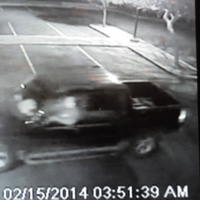 The Yuma Police Department Graffiti Task Force is currently investigating several criminal damage cases and is requesting the assistance of the public in identifying a group of graffiti taggers using the graffiti monikers, "THC," "HYPE," "RISK," "STEEX" and "SMEAR." This group has been very active over the past month and is responsible for graffiti damage to numerous residences, a local high school, a large amount of City property and at least one local house of worship.
The Yuma Police Department encourages anyone with any information about this case to please call the Yuma Police Department at 928-373-4700 or 78-CRIME to remain anonymous. Remember if information leads to an arrest you may receive up to a one-thousand-dollar cash reward. Please refer to case number 14-8774 or 14-8801.
The Yuma Police Department is asking for help identifying the vehicle in the attached pictures. The Yuma police Department would like to speak with the driver of the vehicle about the above criminal damage.