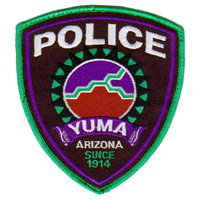 The Yuma Police Department responded to the 2100 block of West Sixth Street for a report of a robbery on Friday.

The investigation revealed that 21-year-old Brandy Soliz, approached the victim and struck her with a fist. Soliz then took the victims purse and fled east. The victim attempted to take her purse back and was struck again by Soliz with her fist. Soliz fled the scene but was apprehended by officers a short distance away. The victim was transported to the Yuma Regional Medical Center with minor injuries. Brandy Soliz was arrested for Robbery and will be booked into the Yuma County Detention Center. The case is actively under investigation and other charges may be pending.

The Yuma Police Department encourages anyone with information about this case to please call the Yuma Police Department at 928-783-4421 or 78-CRIME to remain anonymous.